Package price INCLUDES admission to Vancouver Resource Investing Conference Jan. 20-21. Big Picture Trading Options Class Jan. 18 is optional at additional cost
Join us for our second LIVE MacroVoices conference! This one will NOT be video taped, so you'll have to attend in person if you don't want to miss it.
Please Note: All prices in U.S. Dollars!
Step 1: Buy your ticket for MacroVoices LIVE and VRIC:
Step 2: Book your Hyatt Vancouver hotel room on our group discount:
Speakers:
Click on each speaker's name below to read about the topics they will be presenting at the Vancouver event.
Jeff Snider
Jeff Snider, Chief Investment Officer, Alhambra Investments

Consequences of the present USD disruption on the global financial system
Jeff Snider is known to MacroVoices listeners as "Mr. EuroDollar" for his leading work on how the Eurodollar system affects global financial markets. In this presentation, Jeff examines the present dollar liquidity squeeze which is playing out in financial markets as we speak, and examines how it's likely to affect the global financial and economic system. As always, Jeff's graphs and charts will offer insight into how the supply of Eurodollar liquidity is affecting the global marketplace.
Speaker Bio
Mr. Snider is Chief Investment Strategist and Head of Global Research at Alhambra Investment Partners. Through detailed and comprehensive investigation of the global monetary and banking system, he was one of the few analysts to sound the alarm during the run-up to the panic of 2008 and then to predict the rebound in 2009. His current commentary focuses on the global implications of the ongoing monetary deconstruction including the failure of Federal Reserve and central bank policy. Mr. Snider is published nationally at RealClearMarkets, NewsMax, David Stockman's Contra Corner, and other places.
FULL SCHEDULE FOR MACROVOICES LIVE NOW AVAILABLE HERE
---
Format: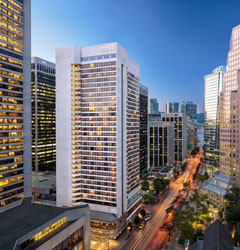 Join our speakers and your fellow attendees on Friday evening, Jan. 18th for a cocktail reception. Enjoy the panaoramic views of Vancouver from the top floor of the Hyatt while you talk Macro with our speakers and other attendees.
On Saturday, Jan. 19th each speaker will give a 45-minute powerpoint presentation, then we'll assemble all 6 featured speakers plus MacroVoices host Erik Townsend on stage for our Town Meeting discussion forum where our speakers will discuss topics requested by you, our live audience. We're working on organizing another reception/networking event on Saturday, Jan. 19th after the main program. This is still in the planning stages, and we'll update you when our plans firm up.
This page will be updated with more detail when our speakers have chosen their presentation topics.
Sunday and Monday (Jan. 20th and 21st) is the Vancouver Resource Investing Conference at the nearby convention center, where both Erik Townsend and Patrick Ceresna will be speaking. Your ticket to MacroVoices LIVE includes admission to VRIC as well.
Your MacroVoices LIVE Vancouver admission package includes:
Friday evening, Jan. 18th cocktail reception (cash bar) at the top floor of the Hyatt Vancouver
6 Amazing featured speakers plus Town Meeting discussion forum on Saturday Jan. 19th
Tentatively, an additional reception or get-together on Saturday Jan. 19th after the main program (may be co-hosted with VRIC)
Admission to Vancouver Resource Investment Conference (VRIC) Sunday and Monday (Jan. 20th and 21st)
Optional all-day Options Trading class with Patrick Ceresna on Jan. 18th (additional cost – see below)
Access to special room discounts at the Hyatt Vancouver $209 Canadian (approx. U.S. $159) per night
(Want extra time in Vancouver? You may check-in as early as Jan 14th and check out as late as Jan. 25th and your entire stay will qualify at special discounted rate)
Price: U.S. $299
UPGRADE: TRADE LIVE with Patrick Ceresna: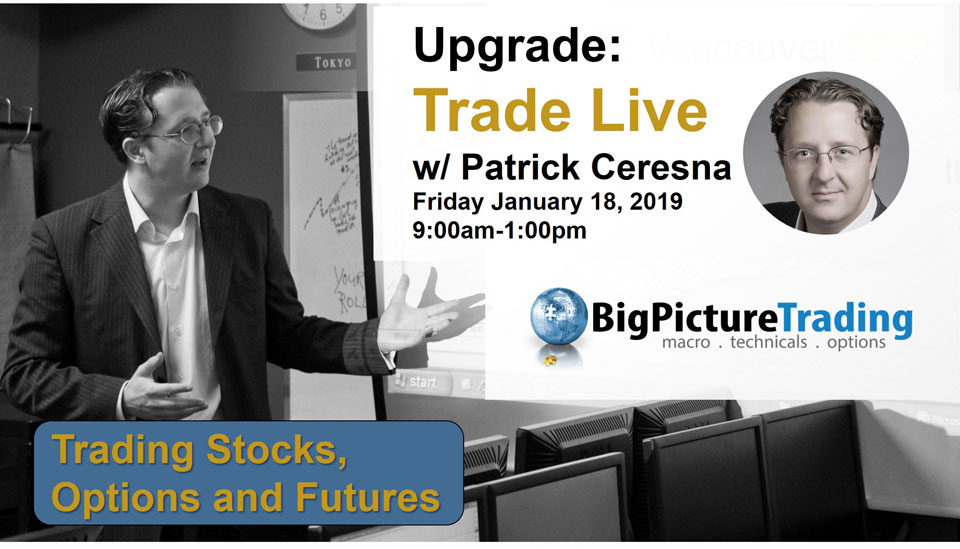 Join Patrick Ceresna for a 4-hour live trading session where he will explore the current market opportunities and go deeper into discussing execution and trade sizing. Learn to use options as a strategic tool for entry, hedging and leverage. We will also explore stocks, bonds and commodity futures trading. We will go through the process of using top down process of building investment themes, tactically assess the entry opportunities and strategize with options on how implement the trades.
Friday January 18th, 2019
9:00am-1:00pm
Hyatt Vancouver Hotel
Price: U.S. $99 Additional
OPTIONAL: Order an Autographed copy of Erik Townsend's new book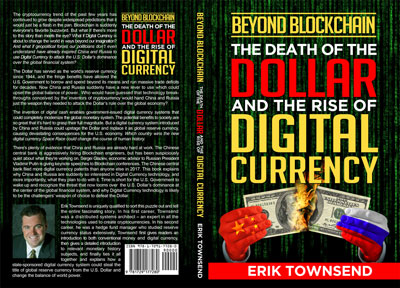 Click on the image above to enlarge.
Order an autographed copy of Erik Townsend's new book, Beyond Blockchain: The Death of the Dollar and the Rise of Digital Currency for an additional $35 and pick it up when you check-in for MacroVoices LIVE in Vancouver.
Price: U.S. $35 Additional
FULL DISCLOSURE: You should only choose this option if you care about getting an autographed copy of the book signed by Erik Townsend. You can order the book directly from Amazon and it will be cheaper and you'll receive it sooner. We have to charge extra for copies picked up at the event because of the international logistics expense of shipping books to Canada for the event.
Read more about Erik's book here...
---
Lodging:
Special Discount Lodging at the Hyatt Vancouver:

On-line Reservations: Click HERE for MacroVoices Group Rate Reservations
Reservations by Telephone: Toll free at 1.800.233.1234 for our 24 hour customer service. Be sure to mention group code G-MACO when you make your booking, as this will both qualify you for a discount and assure the event is credited for your booking.
Ask for the Macro Voices Conference

*** Please e-mail us if you have any difficulty booking your hotel using the group code. We're aware of a problem with extended date reservations are are working with the hotel to resolve it. ***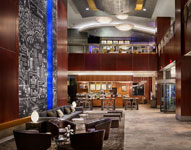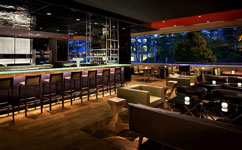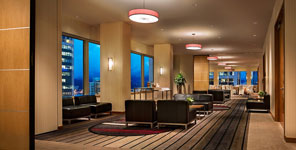 Step 1: Buy your ticket for MacroVoices LIVE and VRIC:
Step 2: Book your Hyatt Vancouver hotel room on our group discount: